Red Label Economy RLSB90L 90 Litre Mobile Blasting Kit (Sand Blaster)
MOBILE BLASTING KIT 90LITRE
Our economy Red Label  Mobile Abrasive Blasting Kit is perfect for a wide variety of surface preparation jobs such as removing paint, scale, rust and oxidation.  Durable wheels and built-in handle allow for easy transport.  Simply add abrasive media and hook up to an air supply and you're ready to blast.  Some assembly required. 
---
Note: Walnut Shells cannot be used in this mobile blasting unit.
---
PLEASE NOTE:
Minimum Free Delivery required to operate this unit (using Medium grit and the Small nozzle) is 400 Litres per minute.
---
Recommended Compressor Air Supply Delivery is 600 Litres per minute. 
---
Ideal for removing paint, rust, scale and oxidation on various surfaces
Durable rubber wheels and convenient handle
Includes Air Pressure Regulator
Includes Safety mask, Thread Tape and Media Refill Funnel
---
Specifications
Tank Capacity: 90 Litre
Working Pressure: 60 - 125psi
Air delivery;  400-600 Litres per minute @ 90psi
Air Consumption: 6-25CFM
4 Ceramic Nozzle Tips: 2.0 2.5 3.0 3.5mm
Hose Length: 2400mm
Hose OD: 24mm
Nett Weight: 21kg
Carton: 880 x 460 x 420mm
Gross Weight: 23kg
---

Intended Use
Blasting work utilising compressed air with recommended abrasive media and/or glass beads to clean and abrade a surface, typically metal, of any rust, paint or other unwanted surface materials. 
---
Print version 
   Owners Manual  
   Product Guide  
---
Note: Walnut Shells cannot be used in this mobile blasting unit.
---
We recommend the use of personal protective equipment. Always wear a respiratory filter or mask over your mouth when operating this unit. You will create a cloud of abrasive media material and debris that should not be inhaled
---
Choosing the right abrasive media
Garnet
Garnet is one of the last few abrasives that are naturally mined. It is an industrial gemstone that creates a profile virtually free of embedment, which makes it excellent for coating adhesion, as well as applications where low or no transfer of grit into the substrate can be tolerated. Garnet is generally used when paint, rust, and scale have to be removed from steel, such as car/truck frames, tanks, heavy machinery, farm equipment, etc. Garnet is one of the most economical abrasive and is the best choice for large blast projects. Best uses: rust removal, heavy scale removal, paint and coatings removal on heavy-gauge steel.
Glass Beads
Crushed Glass or Glass Beads would have to be one of the most popular forms of blast media and can be used on a variety of dustless blasting and abrasive blasting projects across all industry sectors. Using crushed glass means you know you are using a eco friendly and recycled product that helps the environment. If you're looking to achieve a smooth, bright finish, glass beads can be your best option. Glass beads are also recyclable and can be used up to 100 times before replacement, making them an extremely cost-effective option. Glass bead media works well on soft metals like aluminium and brass as well as plastic. Works with a blasting gun or in a blast cabinet.
Walnut Shell
Nut shells and other organic materials, don't cause anchor patterns, making them useful for removing dirt, grease, oil, carbon, scale, burrs and paint without changing the underlying substrate. Walnut shells can be an excellent choice for softer surfaces such as wood — they won't cause etching. Walnut shells are one of less abrasive blasting media you can use and are completely biodegradable, making them among the most environmentally-friendly blasting media. Walnut shell blasting media is great for rust- free paint removal from sheet metal and for cleaning engines and transmissions. Walnut media blasting is especially effective when you want to clean paint, grease and other dirt from the surface of a material but maintain the integrity of the substrate materials. Ideal for use with aluminium, brass and sheet metal.
Steel Grit
Steel grit offers a more angular shape and sharper texture. It can be used to remove rust, paint or scale from steel surfaces. Steel Grit works well in many tough applications such as railway maintenance, structural steel and in foundries. Steel Grit Abrasive Media is made up of sharp cutting angular particles that clean by cutting and etching into the surface which usually results in an etched surface with well defined anchor pattern. Steel Grit can also be used in blasting cabinets for surface preparation as its sharp edge will gradually round over as the abrasive is recycled. The durability and resistance to impact fatigue of Steel Grit provides maximum cleaning efficiency at the most economical cost. 
---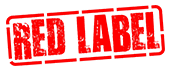 Red Label 12 Month Limited Warranty
In this warranty:
We means TQB Brands Pty Ltd;
You means the consumer of the Goods within the meaning of the Australian Consumer Law
Place of Purchase means the authorised retailer, distributor or wholesaler that sold you the Goods in Australia
Goods means the product/s accompanied by this warranty and purchased in Australia
Domestic Use means personal and/or household family use only (12 months)
Commercial Use means any usage outside a residential household (3 months)
Red Label Goods come with guarantees that cannot be excluded under the Australian Consumer Law. You are entitled to a replacement or refund for a major failure and for compensation for any other reasonably foreseeable loss or damage. You are also entitled to have the Goods repaired or replaced if the goods fail to be of acceptable quality and the failure does not amount to a major failure.
In addition to any rights and remedies you may have under other laws relating to the Goods, we provide you with the following warranty:
If, during the first 12 months of Domestic Use from the date of purchase, or during the first 3 months if the Goods have been used for Commercial Use, there is a defect in the Goods due to improper workmanship or material, we will repair, provide replacement parts or replace the Goods without charge. Any replacement parts or products is warranted only for the time remaining on the original Warranty Period.
We are not obliged to replace the Goods under clause 1 if the Goods have been improperly used, operated, repaired, damaged, abused, installed, tampered with by unauthorised persons or not maintained in accordance with the manufacturer's instructions. If the Goods consist of a number of accessories, we may choose to only replace the defective accessory.
The warranty provided under clause 1 is limited to repair or replacement of the Goods only. To the extent permitted by law, we exclude liability for:
- consequential loss or any other loss or damage caused to property or persons arising from any cause whatsoever;
- damage to consumable items;
- damage arising from normal wear and tear.
In order to claim under this warranty you must, within the Warranty Period, return the Goods to the Place of Purchase, together with the original proof of purchase.